"It's a very inclusive sport, it doesn't matter what you drive or how big your budget is. Or even how "talented" you are – everyone there is supportive." Mark Newcombe
I was really delighted when the Graham Hill Cosmetics Team approached me to share my passion for Hill Climbing. I love it. But it has been said most people think hill climbing is "an activity involving Ordnance Survey maps, rainproof clothing, wellies, and aching limbs".
However to car lovers and racing enthusiasts, it's a sport that involves driving quickly up a narrow, short asphalt hillside course. Often little wider than the car itself.
What really fascinates me is that it's been part of British motorsport since the early days. Many famous drivers, including Sir Stirling Moss, have competed on the hills around the UK. The Hill Climb held at Shelsley Walsh in Worcestershire is the world's oldest continuously staged motorsport event – and it still uses its original course, having first run in 1905.
It is a pretty simple race format.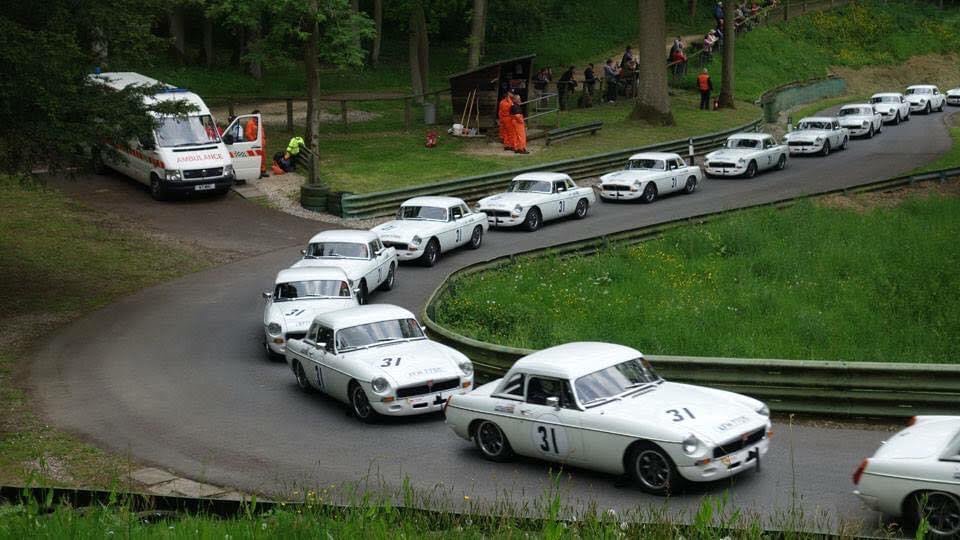 Cars tackle an uphill course one-by-one, with the quickest time dictating the winner.
Competitors are given practice runs before the competition starts. You get a minimum of two competitive runs, with your best time counting in the results. If you make a mistake first time out, you still have a chance of making amends on later runs!
Each weekend during the season you can find any number of events being held. There are over 25 courses throughout the UK, with events ranging from the major British Sprint and Hillclimb Championships to scores of club events.
A wide range of competing vehicles can be found. Ranging from 650bhp plus V8 monsters which accelerate faster than Formula One cars to the humblest road-going machinery, all separated into classes that are designed to provide close competition.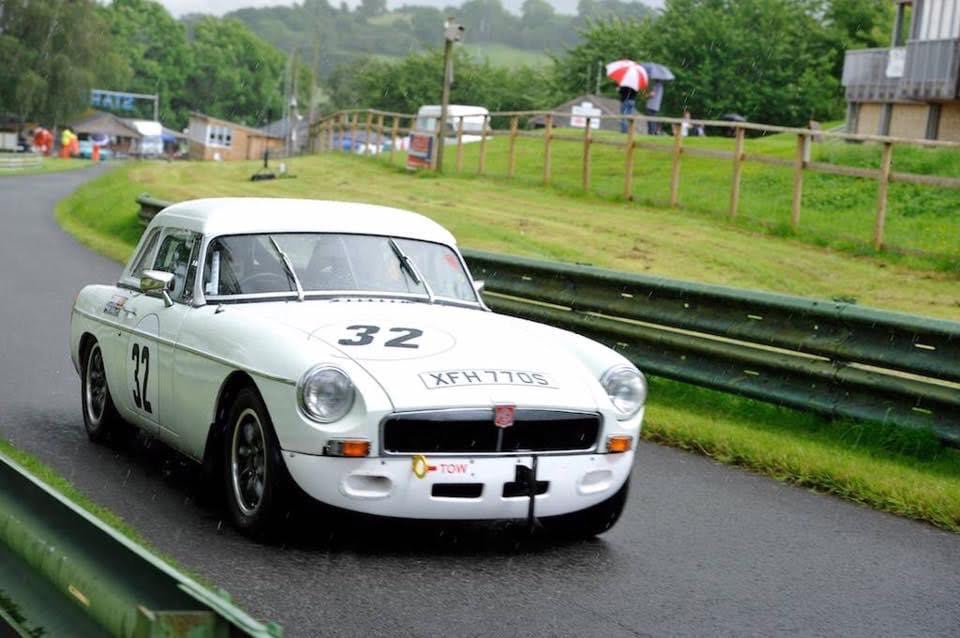 Do you need a racing car?
I am often asked if you need a racing car, or does the car need to be specially prepared with safety equipment? The simple answer is no, it doesn't. But it does depend on which class you intend to enter and how deep your pockets are.
The sport is very much a grassroots one. Most events will have a class suitable for a standard road-going car and this often has the most varied range of cars. Everything from the family Mondeo through to lighter performance oriented cars like the Lotus Elise.
The roadgoing class is a handicapped one. This means that the person running the competition, the Handicapper, has taken into consideration your car's performance and any events you've previously taken part in. From this information they will set you a time to aim for. Handicap times essentially "level" the field. Meaning that you car's performance is somewhat irrelevant. Essentially you are racing against yourself and the clock.
As your confidence grows and your car handling ability improves you can move into another class. Rising through the ranks!
You can race any car, old or new.
There are classes for every type of car ranging from saloons, sports, and single-seaters. Some venues are now looking to include classes for electric vehicles.
There are minimum safety requirements for all cars. These include a sticker to show the "on/off" position on your ignition key. The earth strap on the battery must be marked and this is usually done with green tape. You also need a clearly marked towing point front and rear – just in case you go a little wayward and need to be recovered!
Often even an entry level class runner chooses to add a roll cage, race seats and a harness style seat belt. Each class has differing rules for mandatory safety equipment. These details are laid down in the Motor Sports Association UK handbook, the Blue Book.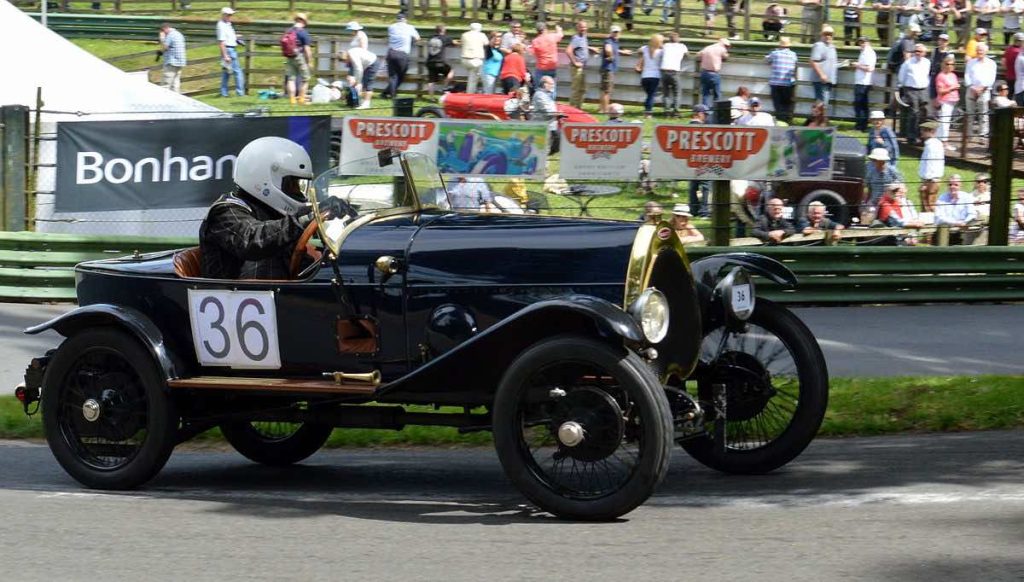 Personal safety matters when you are racing.
There are some basic mandatory personal safety items that are required as set out in the Blue Book. However, although regulated it's not subject to some of the stricter FIA rules that apply to Rallying and single-seater racing, such as F1.
For roadgoing classes, all that is required is an approved motorsport helmet, unfortunately motorbike helmets aren't suitable unless Hill Climbing a motorbike!
You will also need a set of approved fireproof overalls and fireproof gloves. In non-road going cars, racing cars and sports libre cars you will also need an FHR (Frontal Head Restraint, often referred to as HANS) and a suitable helmet with HANS posts. Additionally, you can buy fireproof underwear, balaclavas, racing boots and gloves; these are not necessary, but it's all added safety. Safety equipment must comply with specific BS standards. These are listed in the Blue Book but anyone selling such equipment should be able to help you out.
I drive a 1978 MGB.
It started life as a standard model with those heavy rubber bumpers. But over the years I've done various things to it: the bumpers have gone and that's a huge weight saving. Race seats rather than heavier standard seats. The suspension has been lowered and stiffened, it's not the most pleasant ride on a regular road.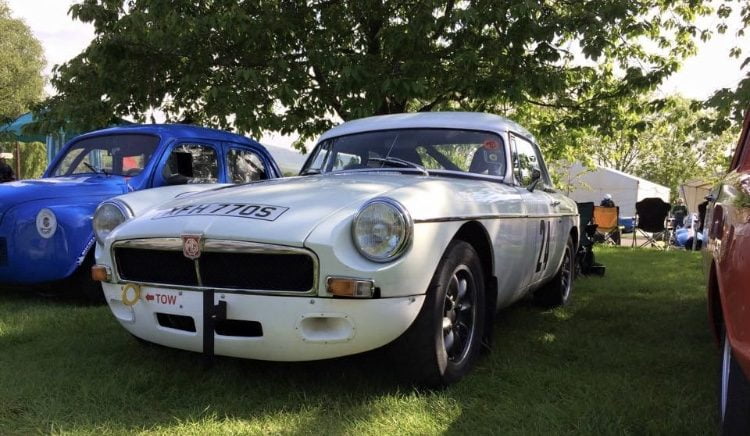 The interior has been "minimised" but because I'm racing in a roadgoing class carpets or mats and doorcards must remain in place. A roll cage is added for safety. Although not performance based, I've chosen to replace the soft top with a hardtop, simply as a nod to the old MG Works race cars. The engine has been replaced with a fast road engine which means that it's bored out to 1840cc rather than the standard 1800 and a Sports exhaust and manifold.
It is the only car I have ever Hill Climbed although I've done various track days where I had the opportunity to drive single seaters and a very fast Lotus amongst other things.
I admit I am a lover of older cars.
I'm a lover of older cars. I appreciate new cars, but they are so full of technology it somewhat detracts from the driving experience. I've got a long list of older cars I'd like to own one day but money and space, mainly money, stops that happening. With older cars there's so much you can do yourself with a basic toolkit and a Haynes Manual. New cars feel like a completely sealed unit!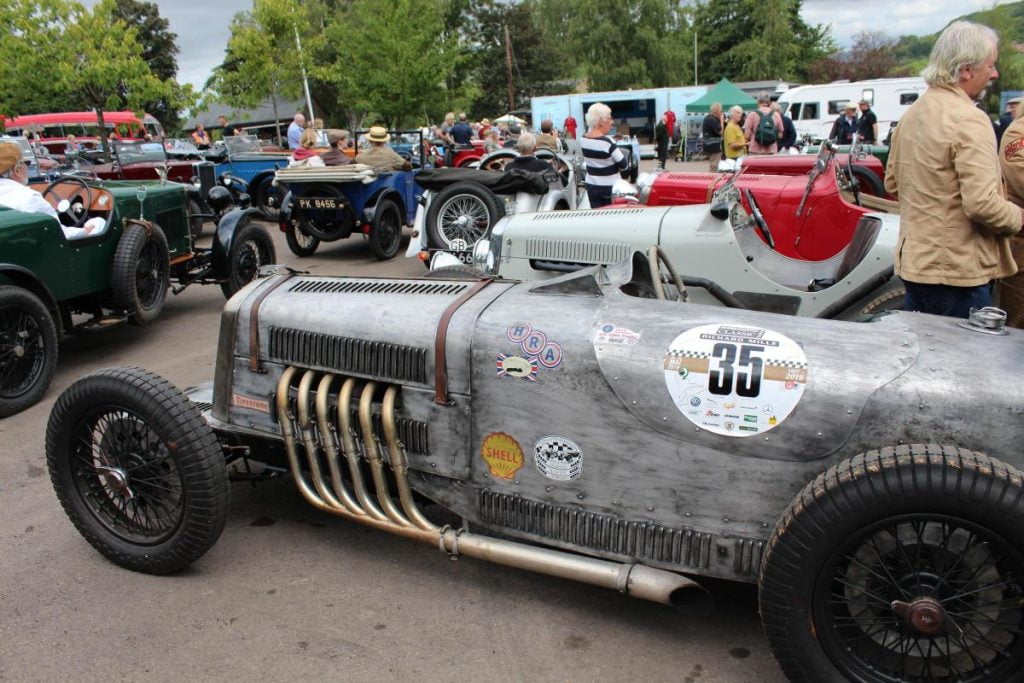 I do really like to see cars of all ages racing, there's nothing like seeing a priceless 1930's Bugatti racing, after all, it's doing what it was built for. There's something a little sad about cars sitting in a museum, all polished but never used. As a child of the 1960's and 1970's I naturally migrate towards cars of that era but as I passed my test in the early 80's I don't mind a Metro!
I have been racing for 10 years, although I've been a spectator at hill climbs for much longer. Back in the late '80's I did quite a lot of club level Rallying as co-driver/navigator. Rallying is another great motorsport but can be quite costly, even at Club level.
I actually got started helping a friend.
A friend started racing and I went as his mechanic crew and general on-the-day support. From there I did a Driver's School Day, which was great fun. I was hooked.
It sounds a bit lame, but it's a really nice day out. All the venues are beautiful countryside. My three local tracks are amazing, Prescott in Gloucestershire, Shelsley Walsh in Worcestershire, and Loton Park in Shropshire.
It's a very inclusive sport, it doesn't matter what you drive, how big your budget is or even how "talented" you are – everyone there is supportive and happy to share advice and even the odd bit of tech support. There is a great family atmosphere, most venues have at least one themed day a year, a chance to dress up, bring a picnic and enjoy some of the non-racing attractions. Prescott have held French and Italian themed days and Shelsley do a Classic Nostalgia weekend.
There is a real sense of anticipation on the start line.
I'm often asked if there's a feeling of excitement on the start line, but I think it's possibly more anticipation. It's surprising how focussed you become whilst sat there waiting for the off. On busier events there can be a lot of spectators, but you tend to be so focussed on the track you don't notice them.
Crashing is always a possibility, sometimes a mechanical fault can cause a crash or simply track conditions. It's not like circuit racing where you can be wiped out by another competitor. In Hill Climbing you are the only car on the track.
Personally, I like to push the car, I'm aware of its handling capabilities, how it will behave and how close to the limit I can go. Where's the fun if you don't push it a little? I don't want to jinx it, but no, I've never crashed.
My car wish list is huge
I like Prescott a lot, it's a track that suits the car. All tracks are different, for example Shelsley favours a more powerful car. But you can have just as much fun on the day. My plan is to try a few new venues and see how things go.
I'd really like a classic Mini. There are a few that race, and they are amazing, they aren't standard by any stretch of the imagination, but they are brilliant to watch. If it had to be something a little more modern, then it would be a Lotus Elise, short wheelbase, lightweight with great handling. There are so many great cars that would be fun to race in, but that lottery win hasn't happened yet!
Combining two passions.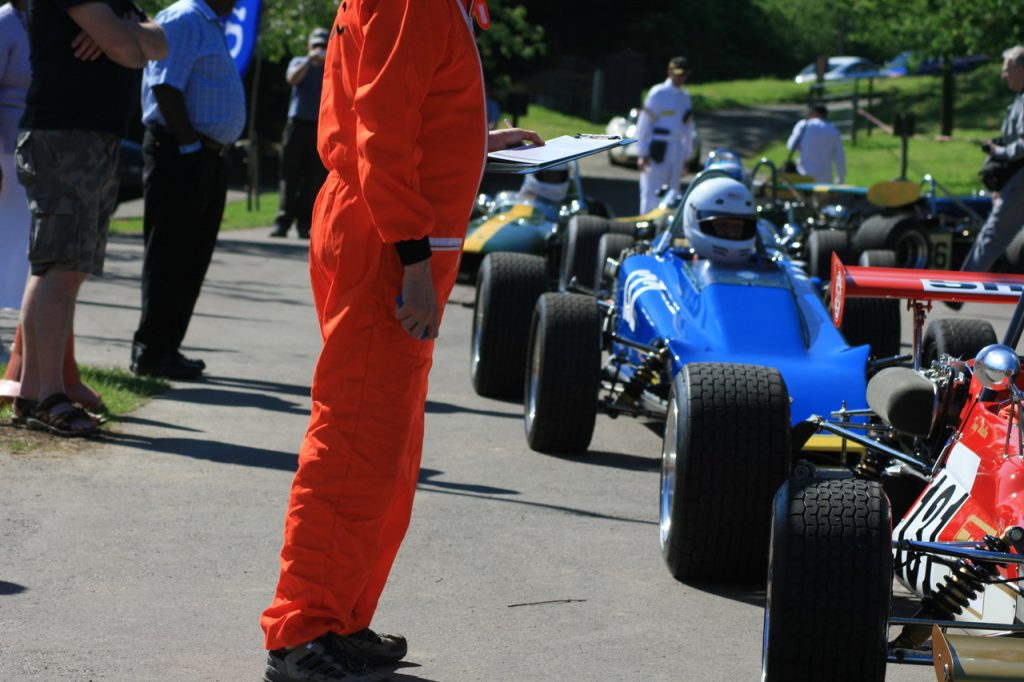 I've done quite a lot of photography while spectating at Hill Climbs. You are very close to the action and there are some great vantage points which make for great photos, some of my better shots have been on rainy day, spray adds something to an image.
If you are tired of taking pictures of the racing there's also an opportunity for some interesting shots in the paddock. Whether it's close-up shots of car details or a bit of reportage style photography of competitors, there is so much to capture.
Who do I admire?
Currently I'd have to say I really admire Lewis Hamilton in F1 but there are many great drivers over the years that I have admired and still do. In rallying there's Sébastien Loeb, with his 79 wins, 30 more than his nearest rival. Go back to the 1960's and Jim Clarke was a superb driver, again more wins than any of his contemporaries, who knows what he might have achieved in he hadn't lost his life at the age of 32 in a racing accident.
Whatever motorsport discipline you consider there have been some outstanding drivers. One person really stands out: John Surtees, the only person to win world championships on both two wheels and four with success in the 60's in F1 and Grand Prix Motorbike racing.
Of course I must mention Graham Hill. His talent, his unbeatable Triple Crown record, his charisma, and style will never be forgotten. He was simply one of a kind and a true motorsport icon.
My favourite products from the Graham Hill Cosmetics collection.
Finally I couldn't sign off without sharing my two favourite Graham Hill Cosmetics products. For me Mulsanne and my Beard Brush are two essential items for keeping my beard looking its best.
Whatever the weather, whatever the occasion Mulsanne Beard Oil and my trusty Beard Brush keep my beard well groomed. I even take them with me on race days, it's all in the preparation! Find out more about these beardy must haves here.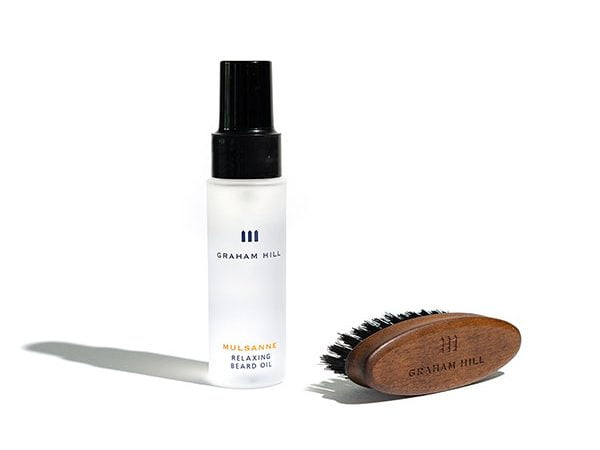 Want to find out more about hill-climbing?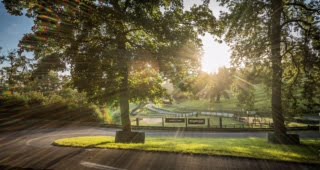 Our thanks to Mark for taking the time to write this very personal account of his love and enthusiasm for Hill Climbing. His favourite course, Prescott, is an exhilarating climb set in stunning countryside. If he's inspired you to go along, we thoroughly recommend it too. They have some great weekends ahead prescott events calendar and watching this historic form of motorsport is a perfect way to spend a day.